Film Screening:


December 17th, 2020, Thursday, 7:30pm (LA time)
until December 31st, 2020
The works in this showcase, in the context of "Aesthetic Inquiries - Contemporary Asia", reflect the broad set of personal perspectives, common experiences, cultural observations, and creative practices that have been discussed by this group of artists. It is a small culture in which one work comes to life in its contact with the others, like an archipelago.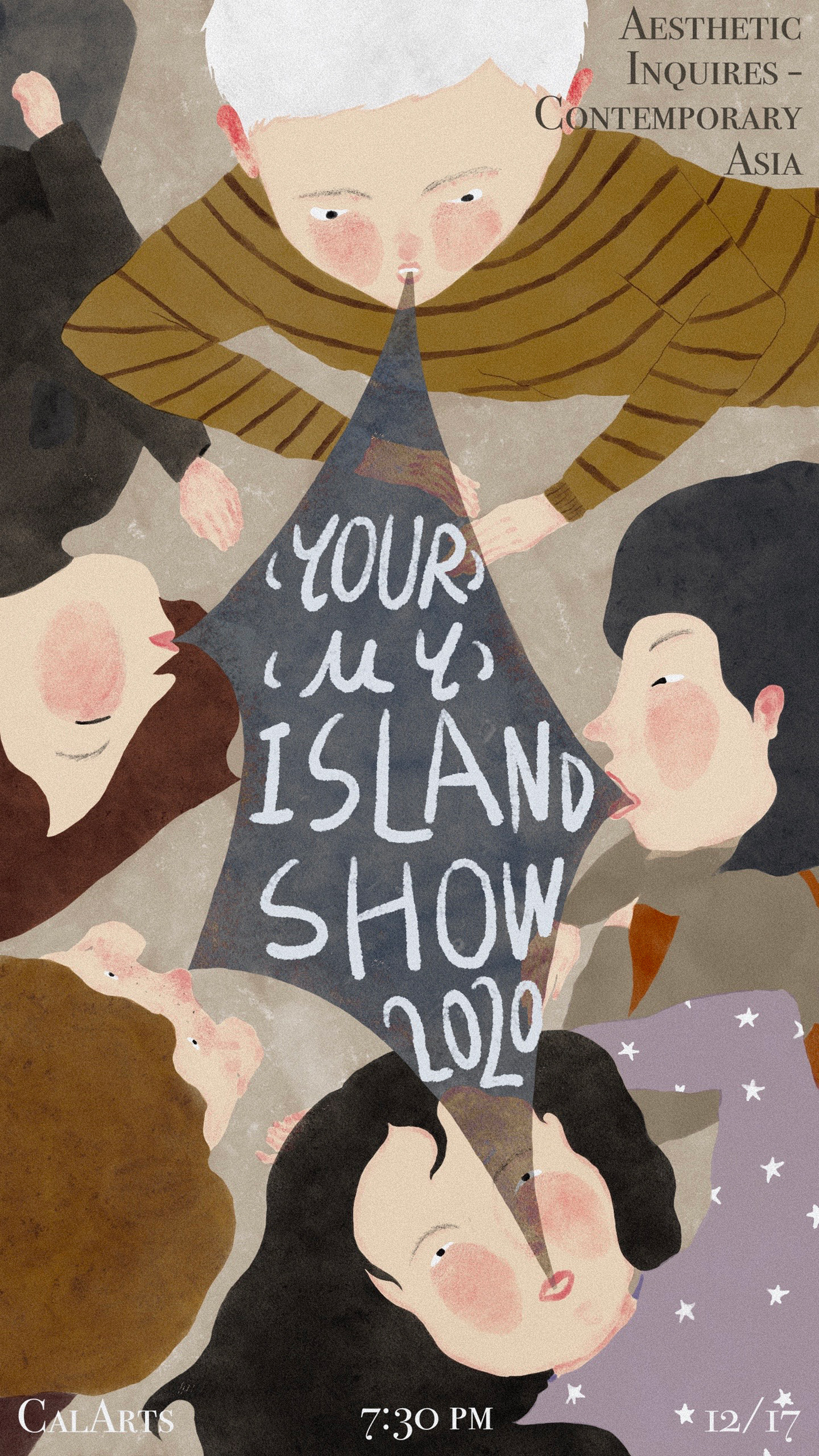 Ways of Giving Up
 is a six-minute media work for a performer with and within the environment. The person in the film is first chased, confronted by the camera but finally gives up fighting against the existence of the camera. Inspired by (__) are/is there, but (__) are/is not. Leaving the blanks as they are. 
포기하는것 은 육분동안 펼쳐지는 퍼포먼스 영상이다. 영상 속 사람은 카메라에게 쫓기고 마주하지만 마침내 카메라가 존재한다는 사실에대한 부 정을 포기한다. 이 영상은 (__)는 그곳에있다, 하지만 (__) 는 그곳에없다 에서 영감을 받았고, (__) 는 빈칸으로 둔다.  
Chinese Cabbage Flowers in Yīngélìshì
 (5:28)
A film is made because of an accidental discovery of a dried cabbage flower in a book where it writes "thinking - and feeling…" Then through a linguistic practice with the cabbage, this film explores the in-between space in two spoken languages and a story behind the scene.​​​​​​​
Female Virtues Class
 (7:04)
By Moon Wang (Yuezhu Wang) 
Intro: 
I was really shocked at those training videos of "Female Virtues Class" online. It's already 2020! These people who seem to be promoting Chinese traditional culture are actually instilling the old idea of "male are superior to female" into the poor girls' mind. They just want every girl to be the same, and ask them to be obedient and ugly. So I made this film with the videos I found on the Internet and some animations I drew to express my anger. At the same time to record the absurd side of this world.
简介:
当我看到网上流传的《女德班》培训视频时,我真的很震惊。现在已经是2020年了!这些表面上在宣扬中国传统文化的人,实际上是在给女人灌输"男尊女卑"的旧思想。他们只是希望每个女生都是一个样子,并要求她们温顺丑陋。所以我用网上能找到的视频并结合自己的一点动画制作了这个影片,来表达我的愤怒。同时也是记录这个世界荒唐的一面吧。
A silent film shot in black & white 16mm. A performance preparation in the late afternoon.​​​​​​​
The film 
Wander
 is threaded by a dialogue between two strangers, yet a loose conversation filled with dreamy words. Both of them are wanderers of the world, and they talk about their life and contemplations in a poetic way. Against the fast floating images as milieu, a sense of sickness and vertigo is intended to make. And the overlap of natural views and scenes from life, with an experimental approach, attempts to impose a feeling of distance between one side and the other, and indicates a starving yearning to get together.
Cosmic Magic of Love
 (1:45)
Inebriate Handbook 3
Terayama Shuji
Not to write about the sea.
Instead, it is written with the sea.
Every word moistens the paper.
Soon, a poem rises in waves,
Like furious waves.
Inspired by (... ... ...) Something Like Autobiography, 
Cosmic Magic of Love
 is an observation of where my aesthetic preferences and creative passions lie, and it encompasses a lot of emotions that I can't describe. In the grainy 16mm image, the girl in uniform shines a mirror at the camera, though the image in the mirror is blurred; sometimes she looks directly at it, sometimes she hides from it.
《断片手册3》
寺山修司
并非是写海,
而是用海来写。
每字都湿润了原稿纸,
很快,一篇诗扬起波浪,
就像是怒涛般。
受启发于(... ... ...) Something Like Autobiography, 
Cosmic Magic of Love
 是我对自己的审美 偏好和创作上的热情所在的一次观照, 它囊括了许多我难以描述的情感。在布满颗粒的16mm影像中, 穿水手服的女孩用镜子映照镜头, 但镜中的影像是模糊的; 她有时直面镜头, 有时又躲避着。
Nothing but Fireworks in that Strait at 8 o'clock
 (1:40)
Sound: Junyao Li & Zhiyu Hu
Nothing but Fireworks in that Strait at 8 o'clock
 was shot by an iPhone, a DSLR camera, and a hand-made 50mm F1.4 lens. In the production process, I used some materials from the cross-strait firework show that I recorded in the past years between Xiamen and Kinmen and captured strait's figure at night as those colorful noises, then overlapped the two images together. In addition to that, I also referred to Bicheng Lu's nostalgic descriptions in her article Diary of Seven Ill Days in New York, that is: "The light emitted by the bulb is like ten thousand wisps of golden lines that densely rush into my eyes due to my tears." and tried to use the unique texture of my hand-made lens to reproduce my attachment to my home city when I was in the other foreign lands.
《Nothing but fireworks in that strait at 8 o'clock》这个作品由一台iphone手机、DSLR相机和一只手工制作的50mm F1.4的镜头拍摄而成的。我在制作的过程中使用了一些我过去在新年里记录的两岸烟花大会的素材,并捕捉了夜幕下金门斑斓的身影,将两个画面重叠在一起。此外,我还参考了吕碧城《纽约病中七日记》里"电灯的光芒如万缕金丝,密密四射成缬,因眼毛上有泪,对着灯光,就成此现象。"的描述,利用手制镜头的特殊质感,试图还原出我在异国时对故乡的记忆。
This group of work called 
rain and fish
. I chose this name because rain and fish are both related to water. Fish cannot live without water, and rain is a form of water. This relationship between these two figures is subtle. It includes a total of 36 pictures and most of them were taken on the west coast of the states. Some of them were taken in the way of road trips from California to Seattle, and some of them were taken in my night wanders. I have found certain places that are related to water, like waterfalls, lakes, creeks, snow mountains, and also some small rivers that I passed by.
In this group of works, "river" is an idealized concept, that people's lives can be connected through it. I believe that there are parts of life that are pure and unaltered. Here we are connected by experience, and in the process complete the cycle of life.
Discovered in self-exploration: without time, many experiences overlapped. I try to use the individual perspective to explore, to find experiences that are connected to others and memories that can be shared, and to use them as a medium to form a new space in which these shared experiences can be carried. They're scattered across the city, at night, by the hotel beds, under the lights, and on the beach, by the trail of tiny creatures.
They glow in everyone's history.
By Moon Wang (Yuezhu Wang) 
Intro: 
When I miss home, I always look at the old photos on my phone. The memories surging into my mind are sometimes clear, sometimes blurry, sometimes happy, but sometimes make me cry.
Whenever I have a video chat with my family, I'm too shy to tell them my love, so I'm thinking… Maybe it's better to draw my thoughts into a video letter and send it to them.


简介:
想家的时候我会看手机里的老照片,那些涌来的记忆有时候很清晰,有时候又很模糊,有时候很开心,有时候又让我流泪。
每次和家人视频聊天的时候似乎不太好意思那么直白地说出我的想念,想着,不如就把这些心里话画出来吧,画成一封信,寄给他们。
Far From Home (A Sci-Fi Video Diary)
 (2:53)
Far From Home (A Sci-fi Video Diary)
is a surreal odyssey of finding oneself in a new place again. Moving across the country is a transition that can precipitate a range of emotions. Novelty and excitement mix in with an anxious uncertainty of how one might find a sense of belonging in their new environment. For now things still feel distant but over time one hopes to close the intimacy gap when familiarity sets in, and comfort comes from the mundane. 
Take a walk on the edge of a cliff
 (4:14)
After I returned to China a few months ago, I feel like I am in the middle of a big change, but I can not see the direction of the change clearly, so I chose to photograph some of the Chinese scenes I have seen recently. I hope to discuss the gap that exists in my society. I will try to combine text and photos together to make a short film.​​​​​​​
This project is about the change of a small village near my home in Beijing. I've photographed some pictures of this place two years ago, during that time the villagers were moving out. This year when I came back home again, the village was becoming a commercial zone. Now Cranes are still working there day and night, the sound echoes in the new empty street; Well-cultivated flowers are placed outside and rustle, instead of the weeds; ruins scatter on the ground along with some new construction material. The only surviving old building there is a Chinese opera school, people can hear the sound of the Muyu practiced by students coming out from the window at night. Living in this developing city, I wonder what we are getting and missing.​​​​​​​
Routine Reports·日常汇报
 (6:45)
Devices: iPhone; Vivitar Cam
Wandering around in the muddledness 2020, flipping through those digital trashes that I captured in daily life, and trying to find out what life should be like from my boring bad taste.
在浑浑噩噩的2020年里四处游荡,翻阅自己每天拍下的电子垃圾,试图从无聊的恶趣味里找出些生活该有的样子。
This project, 
The Train
 was shot in 2020. The train traveled from Xichang to Puxiong on the first day, I stayed overnight, and the next day it went from Puxiong to Yangang. Since this is the last slow train in China, the price of a ticket for each person is one Chinese Yuan (less than 1 US dollar). It goes around Liang mountain and proceeds to large cities. This train is in service mostly for the Yizu people (one of the 56 nationalities of China). Kids take this train to school, and adults use it for small business dealings, so it functions like a mobile market. You can see from the film that they bring livestock and crops on the train (there is even a specific carriage for the livestock). This train doesn't have a regular schedule. It departs whenever the passengers are all on board. Some stations don't even have a platform. It's pretty much a miracle that this train is still running.
An adaptation, transformation, or simply imagination from a photo of my mom when she was in her twenties. I look at her photo when I am awake, and meet her in my dream. Shot in Super 8. ​​​​​​​
Total running time: 75 mins
The class of Aesthetic Inquiries - Contemporary Asia
Faculty, Organizer: Cherlyn Hsing-Hsin Liu
Project Coordinator: Yifan Xu
Technical Support, Website: Yichen Chen
Illustrator, Posters: Moon Yuezhu Wang
Press, Announcements: Da Hee Kim & Ari Hyun