Experimentalist Media Collective, formed in 2020, is an artist-run organization devoted to sharing knowledge and resources, and supporting collaboration and experimentation with artists from around the world.    
Experimentalist Media Collective is a space for artists, scholars and researchers to exhibit experimental work, and stimulate conversation across contemporary disciplines. We create events, including film screenings, concerts, readings, conferences, and workshops. In the future, we also hope to present events centered around contemporary philosophy and social movements.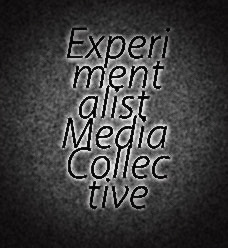 Caitlin Ann Shieh 謝祥安, "Sonny" b. 1991. Taiwanese-American artist & filmmaker based in LA and Taiwan. Acquires a BA in Art, with a focus in Illustration at California State University Northridge. Pursuing an MFA in Film/Video at California Institute of the Arts, 2021. Shieh is interested in nuanced notions of gender & national identity.
Charlotte Hong Bee Her is a Chicago-based animation artist, filmmaker, and writer from Singapore. Their interdisciplinary work is haunted by the category of the nonhuman. They graduated from California Institute of the Arts in 2018 with a BFA in Experimental Animation. Ever since, they have lived and worked in Singapore and the US, with their wife and close collaborator Giuliana Foulkes. Their film work has enjoyed screenings around the world, including Ann Arbor Film Festival, Derby Film Festival, Big Muddy Film Festival, San Diego Underground, Copenhagen Underground, and Leeds Queer Film Festival. In their spare hours, they enjoy wuxia soaps, cooking, and committing crimes.
Cherlyn Hsing-Hsin Liu (b. 1982, Kaohsiung, Taiwan) is an interdisciplinary artist, filmmaker and writer, whose work is grounded in literature and handmade experimental techniques. Cherlyn's creative work often begins as an attempt to expand upon a life event or a small observation. It continues by exploring materials and techniques drawn from both Eastern and Western practices and philosophies. Her media-based works have been screened at festivals including Edinburgh International Film Festival, Festival des Cinémas Différents et Expérimentaux de Paris, Helsinki Festival, Taipei Golden Horse Film Festival, Ann Arbor Film Festival (MI), Slamdance Film Festival (UT), Antimatter [Media Art] (Victoria, B. C.), 25 FPS Festival (Zagreb), and Crossroads Film Festival at SFMoMA (SF). In the 2020/21 school year, she taught two courses at CalArts: "Aesthetic Inquiries - Contemporary Asia" and "Gender & Sexuality - Asian Cinema." Cherlyn is a founding member of Experimentalist Media Collective. She currently lives and works in the US. 
kevin corcoran works with percussion, field recording and electronics. 
based in san francisco, california, he improvises, arranges sounds and collaborates across disciplines. 
Michael Pisaro-Liu (born 1961 in Buffalo, New York) is a guitarist and composer and a long time member of the Wandelweiser collective. While, like other members of Wandelweiser, Pisaro-Liu is known for pieces of long duration with periods of silence, in the past fifteen years his work has branched out in many directions, including field recording, electronics, improvisation and large ensembles of very different kinds of instrumental constitution.
Pisaro-Liu has a long-standing collaboration with percussionist Greg Stuart, with over thirty projects (pieces and recordings) to date, including their 3-disc set, Continuum Unbound from 2014 and Umbra & Penumbra for amplified percussion and orchestra premiered by the La Jolla Symphony in February, 2020. Recordings of his work have been released by Edition Wandelweiser Records, erstwhile records, New World Records, Hubro, Potlatch, another timbre, meena/ftarri, Senufo Editions, Intonema, winds measure, HEM Berlin and on Pisaro's own imprint, Gravity Wave. His work is regularly performed throughout the US, Europe, South America and Southeast Asia. Much of his recent work has been in mixed-media collaborations with his wife, the artist and filmmaker, Cherlyn Hsing-Hsin Pisaro-Liu.

Pisaro-Liu teaches composition and experimental music at the California Institute of the Arts.
Moon Wang (Yuezhu Wang) is a filmmaker, animator and also an illustrator. Her artworks mainly focus on Chinese nowadays social issues and how she views herself, and the surroundings under the impact of the one-child policy, fast and uneven economic development in urban and rural areas in China. She is now exploring documentary films as well as documentary animations. Instead of pushing the viewers away from her works, she wishes to break the boundary between the audience and the creator, making them understand each other. After obtaining the Bachelor of Engineering at Tongji University (Shanghai, China), she is now studying at CalArts (California, USA). 
王月竺是一位电影制作人,动画师和插画师。受上世纪中国大陆的独生子女政策, 以及近几年城市乡村之间迅速却又不平均的经济发展影响,她的作品主要关注中 国当代的社会问题,个人和对周围环境的感受。她现在致力于探索纪录片电影和 纪录片动画的创作。与其说使自己的艺术作品和观众之间产生距离,她更希望打 破这种隔阂,让观看者和创作者都能够互相明白对方。 在上海同济大学取得工学学士的学位后,她现在来到了美国加州的加州艺术学院学习。
Tzu-An Wu makes experimental films. Most of his works are collages with heterogeneous images, audio, and texts in an attempt to inquire the constructs of narratives and self. In recent years, Wu produced pieces of handcrafted techniques and experimentations with super 8mm and 16mm films, in which the artist explores the junctions and new possibilities of the production technologies for analogue and digital images. His works have been shown in both film festivals such as BFI Flare, IFFR, CROSSROADS, EXiS, KLEX, Festival des Cinémas Différents de Paris. Or museums/ galleries exhibitions like Taiwan Biennial, Metropolitan Museum of Manila, Taipei Artist Village, etc. Besides artistic practice, he also works as a programmer and organizer.
yan jun, musician and poet. based in beijing.
practicing in performative music, experimental composition, field recording, improvised music, experimental electronic music and relative presentation of exhibition. his works have often been ranged as "non-music".
he is a member of FEN, Tea Rockers and Impro Committee. and founder of the independent label Sub Jam.
"i wish i was a piece of field recording."
more: yanjun.org
Yifan Xu (b.1998, China) is an artist and filmmaker who primarily works with photographic medium (still and moving images), sound, and installation.  She received a B.A. degree with honors in Art and Film & Media Studies from Lafayette College in 2019. Currently, she is an MFA candidate in Film/Video at CalArts.  Yifan is a recipient of Alison Doerner Fund for Women Pinoneers in Filmmaking and a founding member of Experimentalist Media Collective. She is currently based in the US and China.