CHOI Joonyong 최준용 + JIN Sangtae 진상태
moderator:  Michael Pisaro-Liu 
event curated by Cherlyn Hsing Hsin P-Liu 
​​​​​​​
We are thrilled to present a casual conversation with Joonyong and Sangtae about their music, and about the history of experimental music in Seoul.  We have posted links below for the work we have discussed in the video.  Please check them out at your convenience.
​​​​​​​
Jin Sangtae: hard drives
Choi Joonyong: cymbals
Jin Sangtae: year
Choi Joonyong's solo performance: 'blind. behold'
Choi Joonyong's solo performance: 'break. believe'
Chol Joonyong's solo performance: 'burst. behave'
Choi Joonyong: Washing Machine
Sangtae/Joonyong: Hole in my Head (erstwhile on bandcamp)
dotolim - archive 
Balloon & Needle
 Experimental Animation: Artist Talk with Chenghua Yang 
Chenghua Yang is an animator and also a cartoonist. She now lives and works in France. After graduating from the Animation Department of China Academy of Art (CCA), she came to France to study. In 2012, she began to learn animation in Ecole des Métiers du Cinéma d'Animation (EMCA) and obtained double bachelor's degrees in 2013. In 2017, she established an independent comic magazine called Papayep with Shang Zhang. Instagram: https://www.instagram.com/chenghua_yang/
Event curated by Moon Yuezhu Wang
➢5/21 (Friday) at 8 PM - 9 PM (PDT)
空弧【Empty Arc】by Squash & Biscuit 
(Live performance + Q & A)
​​​​​​​
Still moments in time are free from form—influenced by the past, anticipating the future, yet they stand alone. The gap between breaths; the darkness of a blink; the pregnant pause before words. These moments are opportunities to fold intention into time transmuting ourselves into the form we wish to become. 正如,天上的云朵,定在原地不动,因为那颗高尔夫球不知道落在何处。
Shuwen Zhao and Brian Griffith form the experimental duo Squash & Biscuit《瓜和饼干》They explore the relationship between language and sound by using spoken word and manipulated voice to create mysterious sonic landscapes. Soft dreams of hazy sunsets in a field of fragrant herbs coloring the reverberations from a nearby city. Shuwen and Brian are both MFA '21 candidates in the Experimental Sound Practices and Composition program through the Herb Alpert School of Music at CalArts. Website: https://briangriffith.zone/Squash-Biscuit
Event curated by Yifan Xu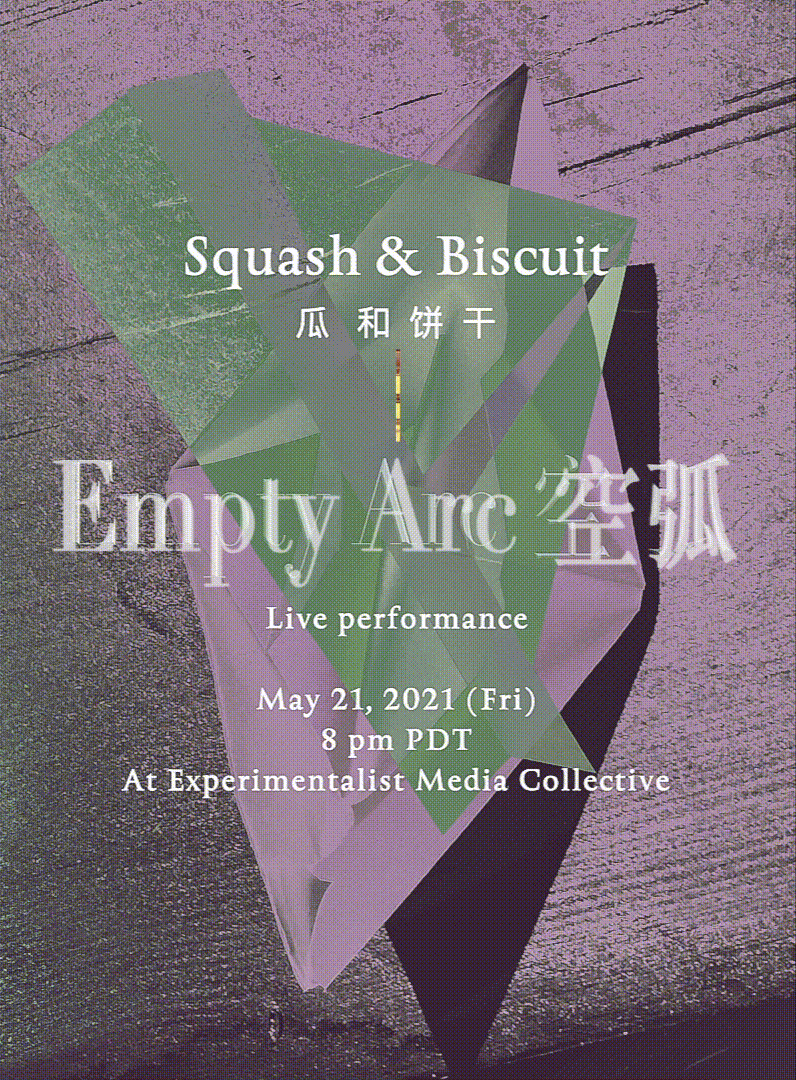 yan jun, musician and poet. based in beijing.
practicing in performative music, experimental composition, field recording, improvised music, experimental electronic music and relative presentation of exhibition. his works have often been ranged as "non-music".
he is a member of FEN, Tea Rockers and Impro Committee. and founder of the independent label Sub Jam.
"i wish i was a piece of field recording."
more: yanjun.org
Listen to this piece:
Film Screening:


December 17th, 2020, Thursday, 7:30 pm (LA time)
until December 31st, 2020
Program Notes:
The works in this showcase, in the context of "Aesthetic Inquiries - Contemporary Asia", reflect the broad set of personal perspectives, common experiences, cultural observations, and creative practices that have been discussed by this group of artists. It is a small culture in which one work comes to life in its contact with the others, like an archipelago.

The class of Aesthetic Inquiries - Contemporary Asia (CalArts)
Faculty, Organizer: Cherlyn Hsing-Hsin Liu
Project Coordinator: Yifan Xu
Technical Support, Website: Yichen Chen
Illustrator, Posters: Moon Yuezhu Wang
Press, Announcements: Da Hee Kim & Ari Hyun