CHOI Joonyong 최준용 + JIN Sangtae 진상태
moderator:  Michael Pisaro-Liu 
event curated by Cherlyn Hsing Hsin P-Liu 
​​​​​​​
We are thrilled to present a casual conversation with Joonyong and Sangtae about their music, and about the history of experimental music in Seoul.  We have posted links below for the work we have discussed in the video.  Please check them out at your convenience.
​​​​​​​
Jin Sangtae: hard drives
Choi Joonyong: cymbals
Jin Sangtae: year
Choi Joonyong's solo performance: 'blind. behold'
Choi Joonyong's solo performance: 'break. believe'
Chol Joonyong's solo performance: 'burst. behave'
Choi Joonyong: Washing Machine
Sangtae/Joonyong: Hole in my Head (erstwhile on bandcamp)
dotolim - archive 
Balloon & Needle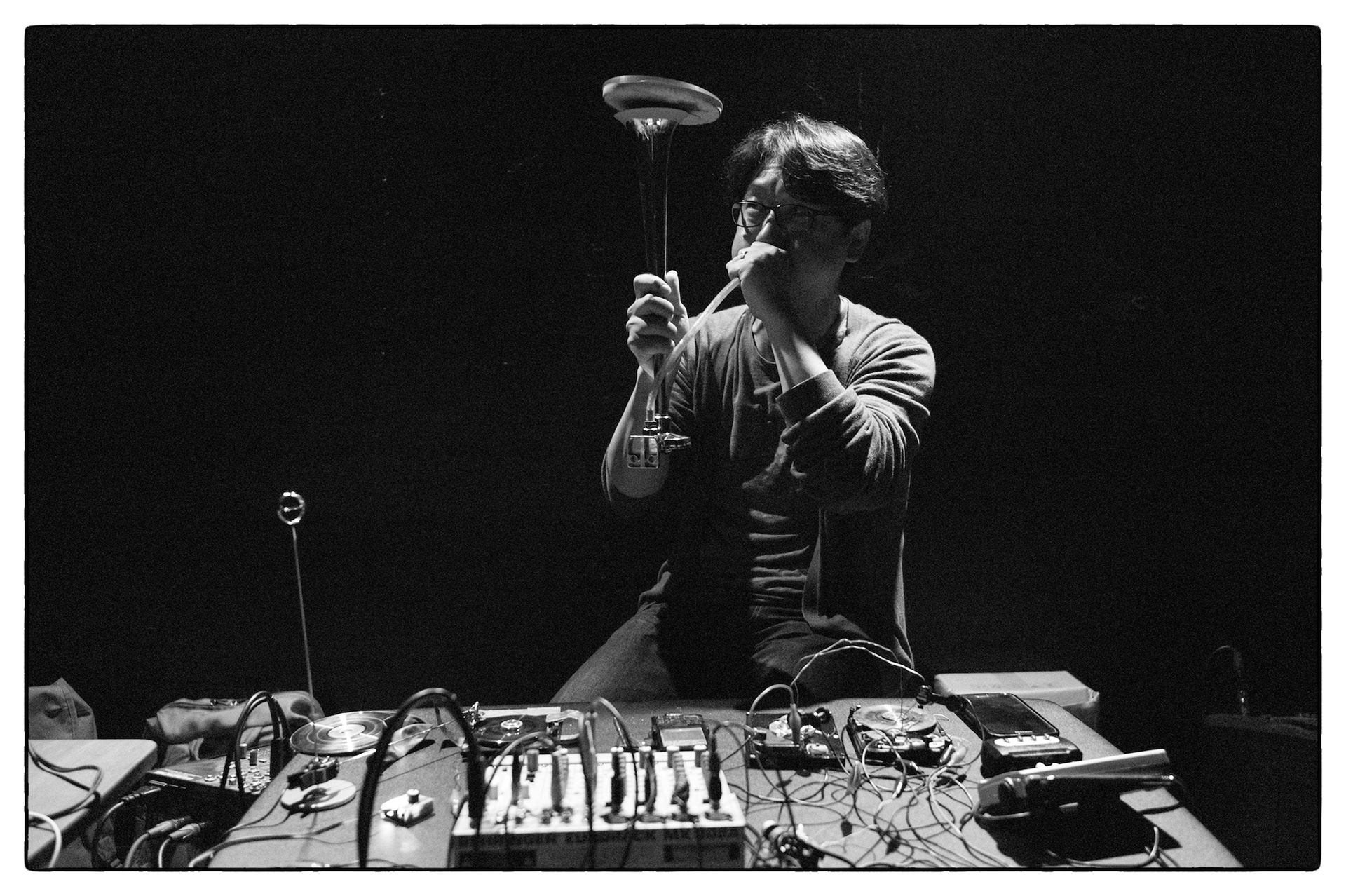 Choi Joonyong founded Astronoise(the first noise project in Korea) with Hong Chulki in 1996. He is interested in control and failure of playing by improvisation and composition. Recently he is working on performances focusing on inferior sound/playing. He has released six solo albums such as DANTHRAX which is made with malfunction of CD-player. He has been producing and designing albums of a label called 'Balloon & Needle' since 2000. He is also a member of a slowcore band 'Through the Sloe' and a doom metal band 'Vomit & Tear' with members of SklavenTanz. 
국내 최초의 노이즈 프로젝트인 astronoise를 홍철기와 1996년에 결성하였고, 즉흥이나 작곡의 방법으로 얻게 되는 연주의 통제와 실패에 관심을 갖고 있으며, 최근에는 열등한 소리와 연주에 대한 퍼포먼스를 진행하고 있다. 녹음물로는 시디플레이어의 오작동을 이용해 만든 DANTHRAX 등의 솔로 음반 등이 있고, 2000년부터 레이블 Balloon & Needle에서 음반 제작과 디자인을 맡고 있다. 그 외에 슬로우코어 밴드 Through the Sloe와 SklavenTanz 멤버들과 결성한 둠 메탈 밴드인 '구토와 눈물(Vomit & Tear)'의 멤버이기도 하다.
Jin Sangtae performs with non-musical objects collected through his experience, projected into instruments, and then re-organized into space. He uses hard drives and several materials that can be connected as the main instrument, and he also plays laptops, radios, car horns, and electronics. He founded 'dotolim' (a small space for improvised music) and has been organizing the 'dotolim concert series' since 2008 as well as the festival 'dotolimpic' in 2012, 2013, and 2017.
website 
http://popmusic25.com
venue 'dotolim' 
http://dotolim.com
진상태는 자신의 경험으로 알게 된 사물들에 자신의 관심사를 투사하여 발음체로 전환, 그것들을 공간에 재배치하는 음악 연주를 이어오고 있다. 그는 해체된 하드디스크와, 연결될 수 있는 여러 물질들을 조합해 자신의 메인 악기로 연주해 오고 있으며, 랩탑, 라디오, 자동차 경적등을 연주한다. 기획자로서는 2008년부터 즉흥음악 공간 '닻올림' 을 설립해 현재까지 연주회를 이어오고 있으며 페스티벌 '닻올림픽'을 2012, 2013, 2017년 기획, 진행했다.
 Experimental Animation: Artist Talk with Chenghua Yang 
Chenghua Yang is an animator and also a cartoonist. She now lives and works in France. After graduating from the Animation Department of China Academy of Art (CCA), she came to France to study. In 2012, she began to learn animation in Ecole des Métiers du Cinéma d'Animation (EMCA) and obtained double bachelor's degrees in 2013. In 2017, she established an independent comic magazine called Papayep with Shang Zhang. Instagram: https://www.instagram.com/chenghua_yang/
Event curated by Moon Yuezhu Wang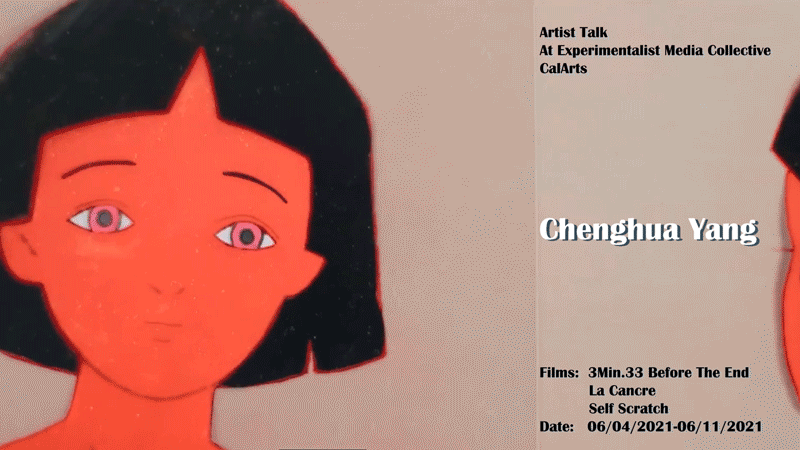 ➢5/21 (Friday) at 8 PM - 9 PM (PDT)
空弧【Empty Arc】by Squash & Biscuit 
(Live performance + Q & A)
​​​​​​​
Still moments in time are free from form—influenced by the past, anticipating the future, yet they stand alone. The gap between breaths; the darkness of a blink; the pregnant pause before words. These moments are opportunities to fold intention into time transmuting ourselves into the form we wish to become. 正如,天上的云朵,定在原地不动,因为那颗高尔夫球不知道落在何处。
Shuwen Zhao and Brian Griffith form the experimental duo Squash & Biscuit《瓜和饼干》They explore the relationship between language and sound by using spoken word and manipulated voice to create mysterious sonic landscapes. Soft dreams of hazy sunsets in a field of fragrant herbs coloring the reverberations from a nearby city. Shuwen and Brian are both MFA '21 candidates in the Experimental Sound Practices and Composition program through the Herb Alpert School of Music at CalArts. Website: https://briangriffith.zone/Squash-Biscuit
Event curated by Yifan Xu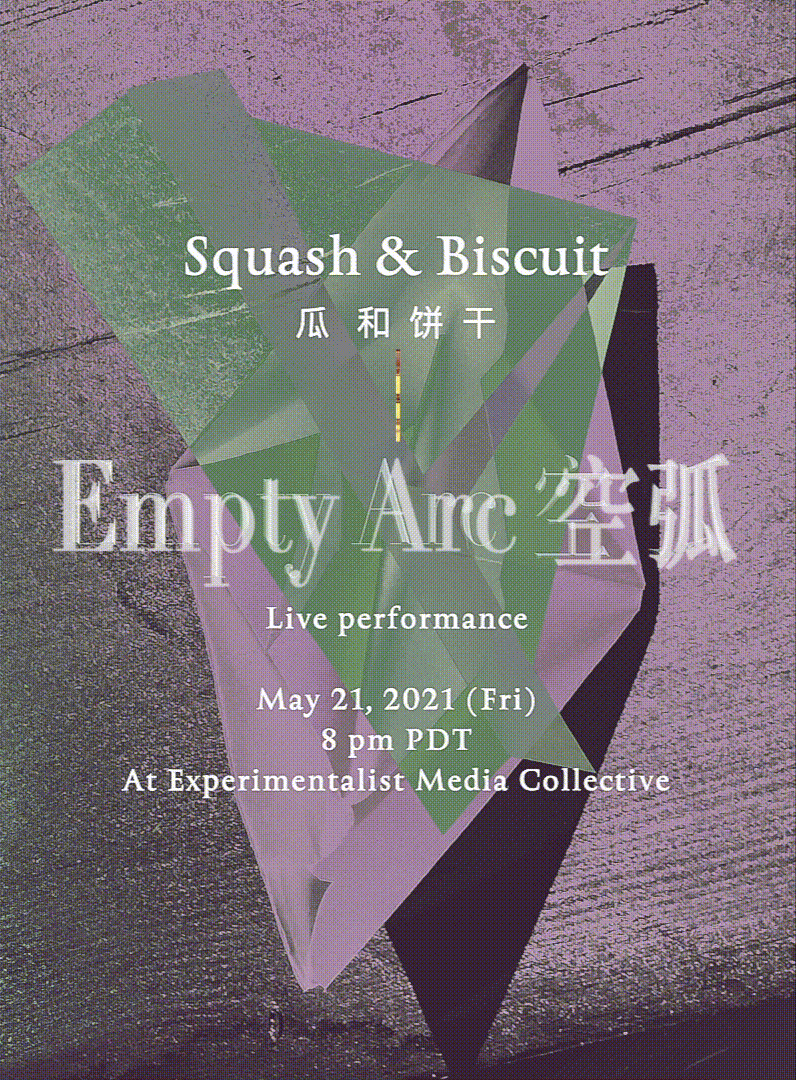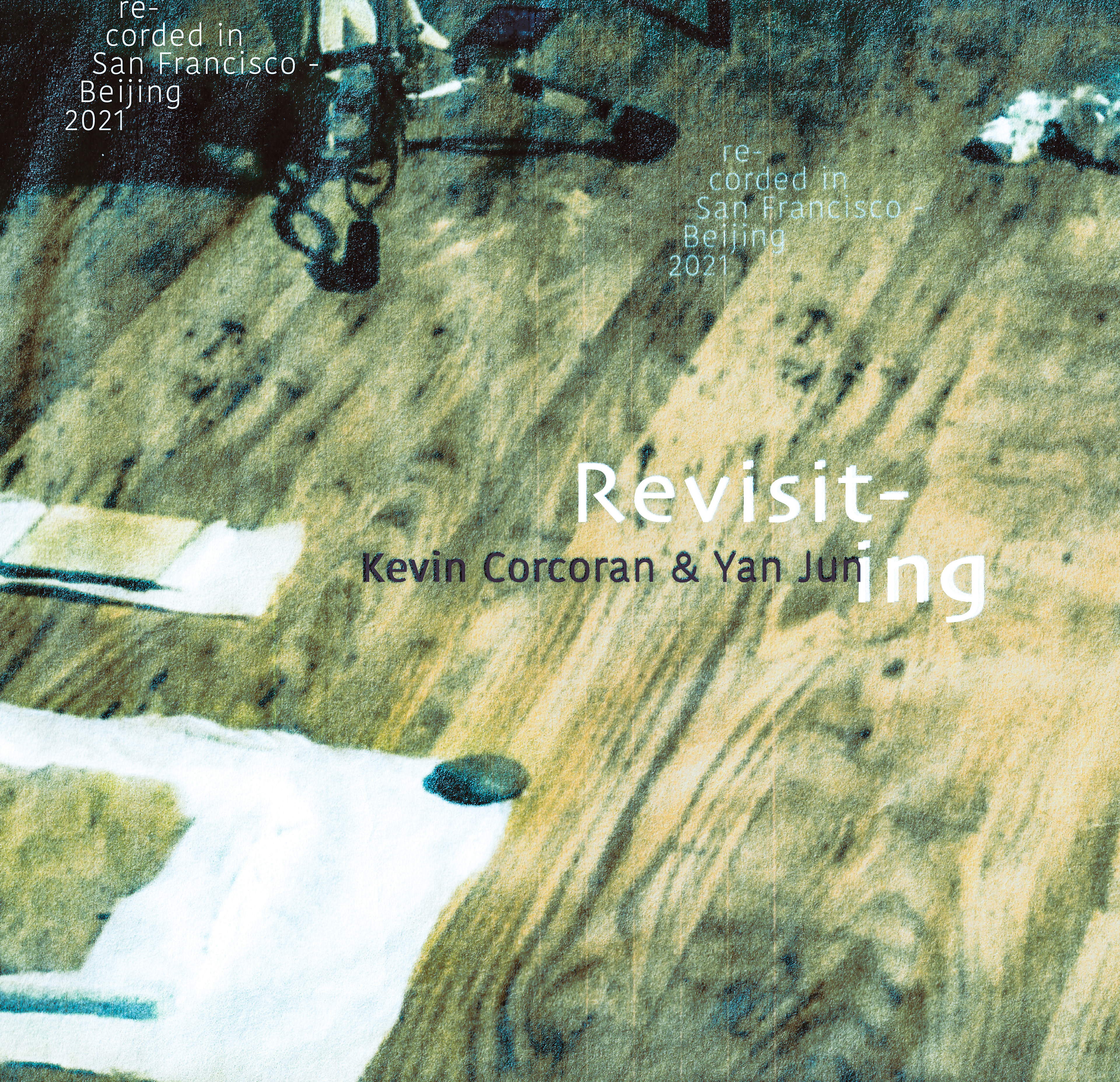 yan jun, musician and poet. based in beijing.
practicing in performative music, experimental composition, field recording, improvised music, experimental electronic music and relative presentation of exhibition. his works have often been ranged as "non-music".
he is a member of FEN, Tea Rockers and Impro Committee. and founder of the independent label Sub Jam.
"i wish i was a piece of field recording."
more: yanjun.org
Listen to this piece: